We Are Proud To Partner With Michigan Humane Society This Subaru Share The Love
The Subaru Share The Love Event Will Be running now through January 3rd, 2023
15 years ago, Subaru created the Share the Love Event as a way to help those who need it most. For every new vehicle purchased or leased, Subaru will donate $250 to a charity of the owner's choice. Now, after this year, Subaru and our retailers are on track to have donated over $250 million to national and hometown charities, like Michigan Humane Society, demonstrating the difference love can make.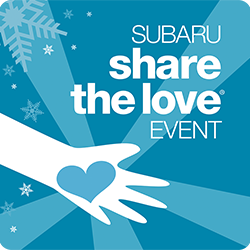 Sellers Subaru partners with Michigan Humane to raise $945,000!
"Michigan Humane held its 33rd Annual Purrfect Bow Wow Brunch on Sunday, October 9 at Detroit's historic Eastern Market, for the first time in partnership with Sellers Subaru. It was the most successful fundraising event in our history! The event celebrated our sponsors and donors who have supported our programs focused on building a more humane community for pets and people. Sellers Subaru owner Sam Slaughter welcomed 650 guests as the program began, thanking everyone for joining him and Sellers on this special day. In honor of Subaru Loves Pet Month, the event included the Sellers Subaru Underdog Showroom in the center of the reception. Two beautiful Subaru vehicles were on display for guests to experience, and the space also featured four older shelter dogs who've been waiting for some time to be discovered. Guests enjoyed looking at the cars and all four dogs were adopted! Thank you to the Sellers Subaru family for supporting Michigan Humane, inspiring others to join the cause and helping to build a more humane community in Metro Detroit." 
-Deb S.
We Love Hearing About Community Impacts Through Partner Testimonials!
"Michigan Humane's Day of Giving Telethon & Radiothon was held on February 11, an 18-hour Valentine's Day week campaign to raise critical funding to care for more than 10,000 animals that will enter Michigan Humane shelters in 2022. Thanks to Sellers Subaru's General Manager James Cagle who recorded a special message of encouragement, viewers and listeners donated in record numbers to support Michigan Humane. Dollars raised ensures routine and emergency medical care, behavior assessment and enrichment, a warm kennel, two meals a day, daily walks outdoors, and the one thing every animal needs: adoption by a loving family. Thank you, Sellers Subaru, for believing in the human-animal bond and giving your time and treasure to Michigan Humane! Thousands of pets are resting comfortably on the couch in their new homes because of you!"
-Deb S
History Of Our Partnership
Sellers Subaru is thrilled to partner with such a great organization like Michigan Human. As a long time partner, we are constantly striving to make a difference in our local communities supporting Michigan Humane each opportunity we get! Our most recent event was the Hometown Charity Celebration where we were able to raise a total donation of $40,311. We would like to thank our local community for making these initiatives as successful and impactful as they have been.
Visit Or Contact Us To Learn About Future Involvement Opportunities
Michigan Humane, founded in 1877, is the oldest and largest nonprofit animal welfare organization in the state. Each year, MHS achieves 100 percent placement of more than 10,000 healthy and treatable animals through compassionate care, community engagement, and advocacy for humane treatment. The MHS operates three shelter and veterinary centers in Detroit, Rochester Hills, and Westland; five adoption partnerships with Premier Pet Supply, Petco, and PetSmart; and both a Cruelty Investigation Department and a Statewide Animal Response Team. Learn more at 
michiganhumane.org
.